Classes—Stained Glass
Please register by 5:30 pm the day before the class starts. Register here on the site, or call 434-315-5715 or email butlerp@mainlyclay.com. If you must cancel, please give us at least 24-hour notice. Stained glass classes for ages 16 to adult; all experience levels are welcome.
Payment required or registration will not complete.
Events Search and Views Navigation
November 2019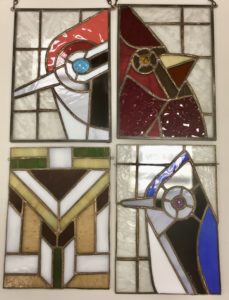 All skill levels.
Make a larger stained glass piece.
Design choices – 6"x 8" – art deco rectangle, choice of 3 birds.
Sat, Nov 9 -1-4 pm.
Cost: $75 -includes materials.
Register here »
December 2019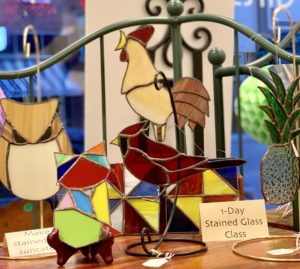 All skill levels.
Instructor: Steve Barber.
Make a stained glass sun-catcher using copper foil tape and a soldering iron, with a wide selection of designs: cardinal, rooster, happy & grumpy owl, fox, butterfly, patchwork quilt, cat, and Farmville LOVE.
Sun, Sept 29 -1-3:30 pm.
Sun, Oct 20 -1-3:30 pm.
Sat, Dec 14 1-3:30 pm.
Cost: $55 -includes materials.
Register here »