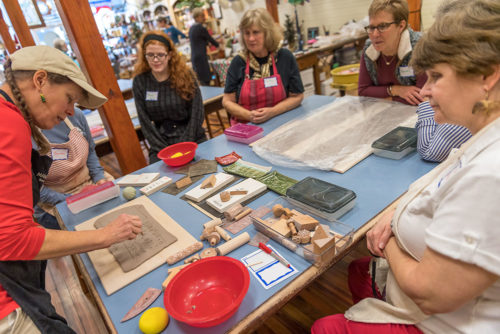 Our Classes—General Information
All skill levels welcome! Learn handbuilding, the wheel, special techniques, and specific projects through our one-day classes. Then take your creations home to enjoy. Bring a friend—you'll have great fun! All experience levels are welcome.
Please register by 5:30 pm the day before the class starts. Register here on the site, or call 434-315-5715 or email butlerp@mainlyclay.com.
Studio Policy
Payment is due when registering for a class.
50% cancelation fee applies with less than 72 hours notice. The remaining fee will be issued as store credit.
Hi!  I'm so thrilled with my Christmas tree! Please thank Cricket for the fabulous glazing job! We had such a good time that day; I hope to come back for more fun classes!
Just wanted to tell you and JJ how much I enjoyed the owl class last night. Super fun and relaxing. JJ does an awesome job of teaching the class – good clear instructions, very helpful and supportive. I also enjoyed the soft music and general atmosphere of the studio. Everyone seemed to be having a good time. What a lovely space to relax, have fun and be creative.